Latest Stamps and Stencils
Price changes coming soon
Unfortunately we are having to implement a few small price increases from next Monday 13 th March. Hopefully this will give you a chance to order new stamps We are so sorry to have to do this but most of our prices have remained the same for over a decade and this is no longer sustainable.
We will also need to increase the price of the MajeMask Stencils but this will be later in the year.
Create and Craft TV Show On Friday 24th March
Was a Sell-out
Expect us back on the Channel around June 26th
Click here for more info
View it on Freeview-85, Sky683, Virgin-748 and Freesat-813
Corona Virus
We are running a reduced Postal service since the Corona Virus.

Posting Days will be Monday and Thursday mornings wherever possible.

Expect orders placed before Monday 8am to be despatched on Monday and orders placed before Thursday 8am to be despatched on Thursday.

This will be modified during Craft Fairs and busy periods such as following a TV appearance.
Home of Rubber Stamps, Peg Stamps and Clear Stamps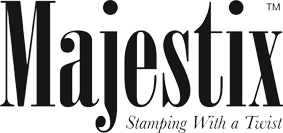 Welcome to Card-io. Established in 2003, we specialise in component stamping with
Majestix Acrylic clear peg stamp sets
. We aim to provide the most exciting range of Stamping Products..
Proud of our expanding range of Clear Stamps.
We also have our own Card-io Clear Stamp Collection which has featured alongside our Majestix peg stamps on the Create and Craft TV Channel. We supply a wide range of ink pads and craft items for Stamping and all manner of Papercrafts, ideal for your hand made Greetings Cards, Tags, Wedding Stationery and invites and more.
Inspiring Craft Ideas
Check out the Inspirations section for some creative and inspiring craft projects, examples of great greetings cards ideas and inspiration.
Best Sellers
New Products